29-year-old arrested after attacking woman
Sayra
born: 2002
stabbed: June 23, 2022
Residence: Hamburg
Origin: Afghanistan
Children: probably none
Perpetrator: an Afghan (29 years old at the time of the crime)
Early in the morning on June 23, 2022, Sayra wants to get on a bus in Hamburg-Billstedt. The perpetrator rams a knife into her head. Sarya is taken to the hospital with serious injuries and survives. After a massive manhunt, an Afghan is arrested. The word "relationship crime" appears in the reports. The names of those involved are not known.
¿Qué es un asesinato por honor?
Un asesinato por honor es un asesinato en nombre del honor. Si un hermano asesina a su hermana para restaurar el honor de la familia, es un asesinato de honor. Según los activistas, las razones más comunes para los asesinatos de honor son como la víctima: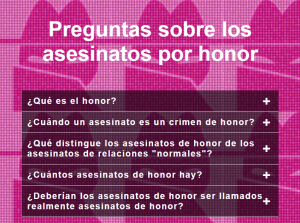 se niega a cooperar en un matrimonio arreglado.

quiere terminar la relación.

fue víctima de violación o asalto sexual.

fue acusado de tener una relación sexual fuera del matrimonio.
Los activistas de derechos humanos creen que cada año se llevan a cabo 100.000 asesinatos de honor, la mayoría de los cuales no se denuncian a las autoridades e incluso algunos son encubiertos deliberadamente por las propias autoridades, por ejemplo porque los autores son buenos amigos de los policías, funcionarios o políticos locales. La violencia contra las niñas y las mujeres sigue siendo un grave problema en Pakistán, India, Afganistán, Iraq, Siria, Irán, Serbia y Turquía.
Βρήκατε κάποιο ορθογραφικό λάθος ή δεν σας αρέσει ο σχεδιασμός της ιστοσελίδας μας ή έχετε άλλα σχόλια για το aimpf.org; Παρακαλώ ενημερώστε μας!